It's a Texas Thang
"Husband and wife team Weldon and Mildred Price perfected their pimiento cheese spread recipe in the 1950s. It was a time of potluck barbeques and card parties, when guests were greeted with cold drinks and sandwiches, and hospitality reigned supreme.
Over the decades, the Price family saw their sweet yet mild spread appear in more and more grocery stores, rising from a simple family recipe direct from Mildred's kitchen to a world-renowned brand. Though it's no longer made in the family's kitchen, Price*s Pimiento Cheese Spread is made with the same care today as it was years and years ago. Real cheese, real pimientos, and sweet, tangy salad dressing are the same high quality ingredients used today as were found in Weldon and Mildred's home.
Bel is proud to uphold the Price*s tradition of excellence, continuing the quality and freshness of the original recipe, and developing new flavors like Original Lite, Jalapeño, and Southern Style. It's a traditional favorite that also happens to be the best. Weldon and Mildred Price wouldn't serve anything less to their guests, and neither should you." ~ Bel Brands USA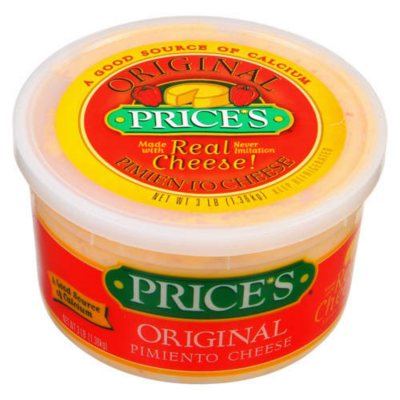 I love to make homemade pimento cheese even though I'm a fan of Price's. This recipe makes a ton of it, and you can use mozzarella instead of the monterrey jack cheese.
Over the years, I added different blends of grated cheese until I came up with my favorites. The creaminess comes from a blend of mayo and softened cream cheese. I've even added minced fresh jalapeno peppers to it. It's just best on white bread, and nothing can change that fact. Mrs. Bairds is the best. Cut diagonally, it takes me back to my childhood.
Paula's Pimento Cheese
2016-11-21 18:48:43
Ingredients
1 c medium cheddar or longhorn cheese, grated
3/4 c monterey jack cheese, grated
1/2 c sharp cheddar cheese, grated
2/3 c real mayonnaise (not salad dressing-i use duke's)
4 oz cream cheese, room temperature
4 Tbsp diced pimentos, drained
1/2 tsp salt
1/8 tsp black pepper
1/8 tsp onion powder (optional-i use a tiny dash)
Instructions
Mix cheeses in a large bowl and add mayonnaise and cream cheese. Mix by hand until thoroughly combined.
Add pimentos and seasonings and mix. Add more mayonnaise if too dry. Serve on bread as a sandwich, or as a dip or snack on celery. Refrigerate leftovers.
Paula Todora http://paulatodora.com/
---
---